Dr. Cecil Bennett, M.D.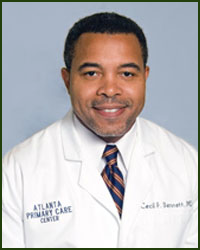 Dr. Cecil F. Bennett Jr. grew up in Brooklyn New York, where he attended Midwood High School. He completed his undergraduate studies at Syracuse University, earning a degree in Biology. After working as a pharmaceutical representative with Merck and Geigy Pharmaceuticals, at the encouragement of a physician mentor from Morehouse School of Medicine, he applied and was accepted to Morehouse School of Medicine. Dr. Bennett became president of the Student Government Association during his fourth year in medical school. He also served on the Morehouse School of Medicine Board of Trustees.
Upon the completion of medical school, Dr. Bennett began and completed his training in Family Medicine at The Morehouse School of Medicine Family Practice Center, where he served as Chief resident in his final year. After residency and becoming board certified in Family Medicine, Dr. Bennett founded The Atlanta Primary Center, in Atlanta Georgia. Today The Atlanta Primary Center is the largest full service primary care center in its Atlanta area, serving a largely underserved population.
Seeing a void in the clinical preparedness of foreign trained doctors who wish to practice in the United States, Dr. Bennett is dedicated to improving international medical education standards. The vision of the National Center for International Medical Education (NCIME), is to be the leader in providing standardized US clinical medicine training to foreign medical students and graduates.
To understand healthcare, one has to understand the players. These players include physicians, patients, hospitals, government, medical insurance and drug companies. Dr. Bennett has written the book, 'McFly Goes to Med School: Your Physician in the Unraveling U.S. Healthcare Crisis', to explain the true role of those players in healthcare reform. Concerned about U.S. medical education, he dedicated two chapters to that issue in the book. The book is available at www.amazon.com. To view a video message from Dr. Bennett about his book, please visit www.mcflybook.com.
Dr. Bennett was recently appointed as the Associate Dean of Medical Education for Washington Adventist University in Washington DC. The Adventist Healthcare network includes over 80 hospitals across the US. This network presents an opportunity to create clinical training possibilities for international medical students and graduates in several US locations. Clinical rotations include Internal Medicine, Surgery, OB/GYN, Internal Medicine, Pediatrics, Psychiatry and Family Medicine. Other specialties include Cardiology, Radiology, Ophthalmology, and Emergency Medicine.
Dr. Bennett is a Christian. He is married to his wife Andrea, and has been for twenty two years. He is the father of children Danielle, Matthew, and Alyssa.